Growing up we listened to a lot of Cantonese music from the 70s-90s due to my parents refusing to listen to contemporary English music (except for oldies from the 60s, that was acceptable). A few years ago I confessed that I loved Sam Hui music to a friend. He told me I was an old fashion person because a lot Cantopop music has moved on with the rest of the world into dance and hip hop.
Every since China took back Hong Kong in 1997, there has been more demand for Mandarin products than Cantonese. However, in my opinion, Cantonese entertainment still reigns supreme as the writing styles in TV/movies are mature and always keep the audiences watching for the next plot twist. In China, the industry is still "new" compared to Hong Kong and maybe I'll get addicted to something in Mandarin, but it hasn't happened yet. Sadly there used to be over 300 films a year coming out of Hong Kong, and now there is only 30 as all the money is in China.
Regardless, an article in the South China Morning Post explains why Cantonese is still such a great language. (quote from article: "seng gau char siu ho gor seng nay", which literally means "better to have given birth to a piece of barbecued pork than you". )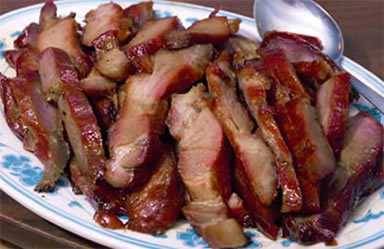 A lot of the music my dad liked to listen to ranged from very calm songs about waiting for someone (English lyrics to Danny Chan – 等Wait) or funny ones about the common man getting ripped off by the boss (English lyrics to Sam Hui – 半斤八兩 Half a catty, eight taels).
Lately I've been listening to this music again and it makes me cry because I remember sitting bored in the living room with the family while watching the horrible music videos of these songs on tv. A lot of Cantonese tv was family oriented and after dinner we would all sit down to watch tv and eat fruit. I remember thinking that I couldn't wait to leave the house for life to start. Now I finally understand the longing and nostalgia of times gone past because people can't be brought back from the dead.
Anyhow, I wanted to share  a few Cantopop songs via YouTube to those interested in trying out a new type of music. Other than the melodies being catchy, the lyrics are well written and usually the performers had great voices. There was less focus on "packaging" versus talent. Many of these legendary singers have died or retired. A few of them are still around and are still doing well. I don't listen to much new Cantopop anymore unless they are title songs to tv series but these oldies are always welcomed in my home!
Sam Hui – 半斤八兩 Half a catty, eight taels (1976) – English lyrics here, about the common man always getting the short end of the stick!
We are a bunch of working guys Working as slaves for money for life
Leon Lai – 愿你今夜提房距 Hope You Will Not Leave Tonight (1993) – English lyrics here. This was the theme song to the TVB series The Legendary Ranger, science fiction series with aliens and a kick ass bodyguard (Faye Wong)! Leon was my fav of the Four Heavenly Kings!
Hoping you will not leave tonight.
But you have disappeared in such a hurry
to live a life in another world to be with someone else.
Hacken Lee – 红日 Red Sun (1992) – English translation here, a great song for any bad day!
the path of life so twisted and winding, I have walked it
when did you start to accompany me on this path, giving me encouragement?
like the red sun, this fire lights up the real me
walking together, we can climb a thousand mountains
Jenny Tseng & Roman Tam – 問誰領風騷 (1987) – couldn't find English translation, this is the theme song to a Wushu superhero series in ancient China. They both have AMAZING voices!
Anita Mui – Stand By Me (1988) – couldn't find English translation, this was a thank you song to her fans for standing by her for many years.
Leslie Cheung- 有心人 A Man of Purpose (1996) – English Lyrics here. This was the theme song from the gender bending romance movie, Who's the Woman, Who's the Man?
Wish I could have yet grown up Look for the one simply by instinct
Danny Chan – 等 Wait (1984) – English lyrics here. A really sad and beautiful song about being depressed because a love left.
Wait
Lonesome till deep into the night
The night gradually becomes desolate
The night gradually becomes dusky
Don't say that you're the one choosing people
People can also choose you
Sam Hui – Heart of a Loafer (1976) – English translation here, a song that reminds you to be humble and don't be overly anxious.
If life destines something for you, you will have it in the end
If life destines you never to have it, there is no point forcing it